Basics
Broker Name: StockPair
Platform: StockPair Trading Platform
Founded: 2010
Return/Refund:  75% to 83% Return and 0 to 10% Refund
US Traders Accepted: Not Accepting Traders from the US
Features
Number of Assets: 150
Regulated: Yes
Demo Account: Free Demo Account
Deposit Options: Credit Cards, Wire Transfer, MoneyBookers, and many more
Language: English, French, Spanish, Italian, Arabic, Dutch and many more.
Minimum Deposit: $200
Trading Platform
The trading platform of StockPair is totally unique. It is highly intuitive and allows traders to select stocks from a long list of stock pairs, including binary options, by using their easy-to-use drop down menu.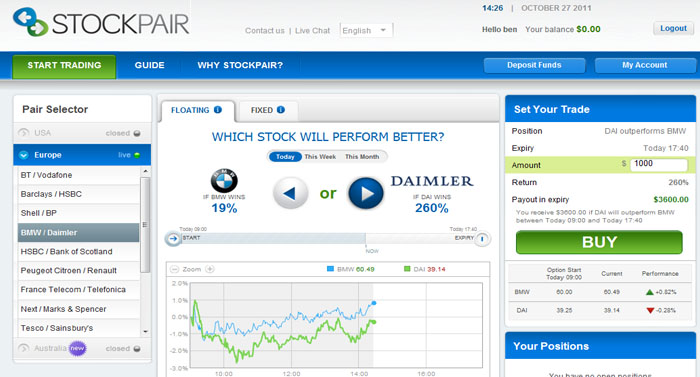 With StockPair, the trader can profit from the movement of one stock in relation to another, which is similar to trading currency pairs. This is truly a unique way of trading that other binary options brokers do not have. In fact, the white label software such as SpotOption does not currently support this feature.
User Friendly
In order to help make the binary options trading experience as easier and as more profitable, the trading platform of StockPair is loaded with features designed to help all traders, whether beginners or professionals. They have risk management tools, such as the trade control, an early sale option, and the expiry which is decided by the trader.
They also have technical analysis charts as well as extensive training guides that could assist all traders. They even have reports that show the trader the chart of the closed traders in order to help improve his strategies as well as learning process. Furthermore, their website and their trading platform are clean and sophisticated and are available in various languages, such as English, French, Spanish, Arabic, Dutch, Italian and many more.
No. of Assets and Expiry time
The total number of existing assets of StockPair is 150. This includes the indices, currency, as well as stocks and commodities that are being traded in Australia, the United States and Europe.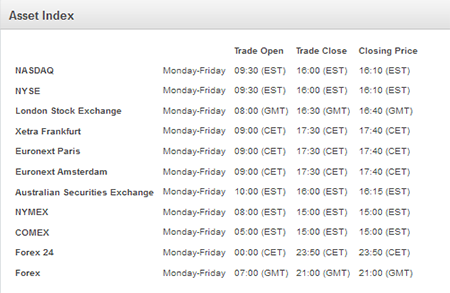 StockPair's expiry time is great as well, which stretches from minutes until several months, and includes most of the fixed pair assets. They also have floating pairs available a week, a month or a day.
Commissions, Support (Customer Service) and Effective return
StockPair will not charge for any fees and commissions from the traders, even when they make their first deposit and when they purchase options, until they withdraw. Their customer service support line is available 24 hours a day, seven days a week, and they have toll free support for eleven international numbers, including English, Italian, Spanish and French.
They also provide support via email and chat. Their chat support is so convenient and the customer service reps are very polite and quick. You just need to go to their website, refer to the customer support section and fill out the online form for the chat.
The effective return of StockPair is on the above average in the industry, which is 82% in Money and 80% return on most of the assets on fixed pairs. The floating pairs can also reach to as much as 400% and even more in returns. There is also a 0 to 10% refund.
Deposit and Payment 
The minimum deposit of StockPair is at average, which is $200. This is especially great for those who are new in the world of binary trading options. Deposits can be made through Credit Card, Cash-U, Wire Transfer, Money Bookers and many more.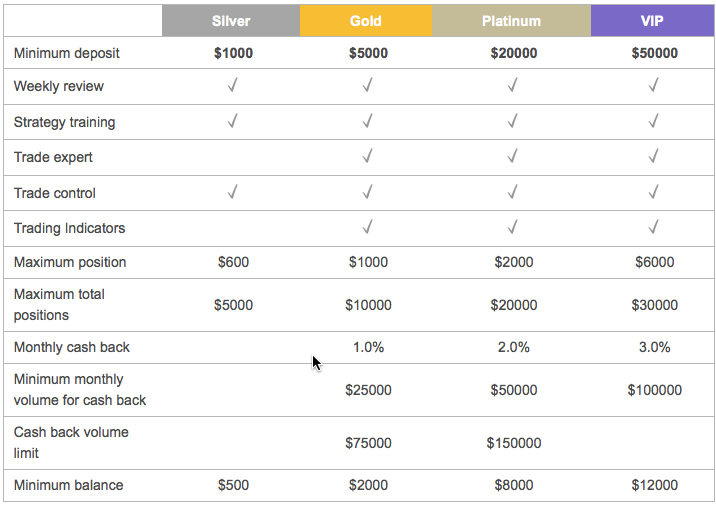 The withdrawals are often available through the same methods.  StockPair does not offer cash backs on volume for any given month.
Website Extra's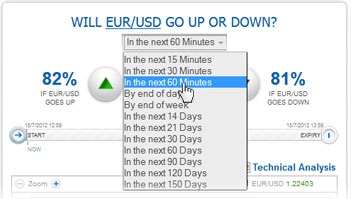 StockPair is not like your typical binary options broker, and thus, you cannot expect a lot of website extra's from them. Despite that, their website is highly impressive and comes with really great trading tools. They have the rollover and early closure that comes with charts that are very helpful. They also provide their customers with information about the market through its market reviews, guides, as well as the latest news on the binary options broker.
You will also find information about the company on the homepage as well as an FAQ section which somehow helps new traders to understand more about the company. Furthermore, their recent trading platform comes with extend as well as close now options.
Pros
StockPair comes with so many advantages, which is why it is among the most preferred companies in the industry of binary options trading. Some of the advantages that you can enjoy with this platform are:
They provide daily market analysis to consumers.
They allow you to earn high profits, which is as much as 350% for every trade.
They have a wide selection of assets.
They provide several helpful resources and materials.
They are available in so many languages.
Their customer service support is highly reliable and is available 24/7.
They have a very user friendly and highly intuitive interface.
Cons
Just like with other companies, there are also some disadvantages that come with the StockPair, as a company for binary options trading, and among these are:
They do not have the 60 Seconds Option.
They are not available for US Traders.
They do not offer out of money refund.
Conclusion
StockPair brings a whole new meaning to the world of binary options trading, by allowing their traders to make deals that are based on familiar products as well as various trading strategies that are very easy to understand. Not only that, they provide a low minimum deposit as well as low minimum trading amount of $20, with a maximum payout of $6,000  per option.
But just like with other brokers, there are also disadvantages that come with StockPair and perhaps their biggest disadvantage lies on the fact that they lack the 60 Seconds options. Nevertheless, the StockPair is highly recommended for newcomers and professional traders because their trading platform provides a direct and simple way for traders to be able to profit from market movements. And by having an excellent customer support team, StockPair will certainly not disappoint.